MindManager cannot be activated due to specific environment configuration: proxy, firewall, registry permissions.
Information
Proxy Configuration
If you are using a proxy server, MindManager will use the proxy settings defined in IE 11 or MS Edge.
Note: MindManager does not support proxy script files.
If proxy authentication is required, please change the following settings inside the registry:
HKEY_LOCAL_MACHINE\SOFTWARE\Mindjet\MindManager\21\Settings
ProxyType=2
ProxyAuthenticationRequired=1
ProxyHost=...
ProxyPort=...
Depending on the proxy configuration, other proxy-related settings need to be changed.
Firewall Configuration
If you are using a Firewall/security application, please make sure the following URL's on port 443 are whitelisted in its settings:
https://cloud.mindjet.com
https://cloud.mindmanager.com
https://login.mindmanager.com
https://prd-cloud-mindmanger.auth.eu-central-1.amazoncognito.com/
Registry Permissions
Upon activating, MindManager stores a token in the following registry section:
HKEY_CURRENT_USER\SOFTWARE\Mindjet\MindManager\21\Settings
If the activation fails, please check that the current Windows user has write-permissions to this section.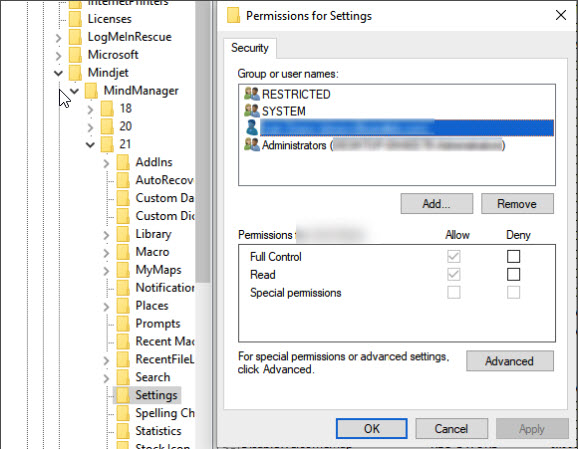 Contact the IT department for assistance, if registry modification is restricted or permissions for the current Windows user aren't sufficient.